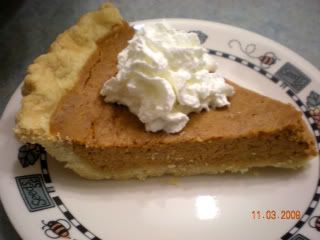 I'm not really a pumpkin pie fan. Something about the texture icks me out, too slimey or something but Bri really likes it. This is the recipe that I found that makes pumpkin pie bearable. It has an extra egg to help it bake up a little bit firmer so it's not so jiggly, some brown sugar to give a hint of molasses and I never have evaporated milk so it's got whole milk with some heavy cream to add some richness. It's good enough that even I will eat it. Who knew?
Pumpkin Pie
Pastry for 1 crust pie
3 eggs
1 15 oz can pumpkin
½ c. sugar
¼ c. packed brown sugar
1 tsp ground cinnamon
½ tsp salt
½ tsp ground ginger
¼ tsp ground cloves
¼ tsp ground nutmeg
¾ c. whole milk
¼ c. heavy cream
Beat eggs, add pumpkin and stir well to combine. Combine sugars, cinnamon, salt, ginger, cloves, and nutmeg in a small bowl. Stir spice mix into the pumpkin. Mix in milk and cream.
Preheat oven to 425 degrees. While oven preheats let filling sit so that is can come closer to room temperature. This will help it to bake more evenly.
Pour into pie shell and bake for 15 minutes; shield your crust. Reduce heat to 350 degrees and bake for another 50-60 minutes or until a knife inserted in the middle comes out clean. Take the foil off the edges at approx the 30-40 min left point.